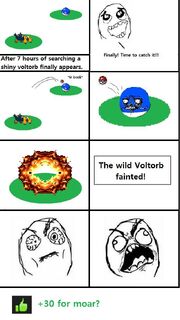 This article is a list of the most RAGE inducing elements of the Nintendo and Game Freak franchise Pokémon.
Pokémon RAGE Moments!
Edit
The moment when the player loses against the last Pokémon of the Last Opponent on PWT. (Black 2/White 2)
The moment when the player want to catch a Pokémon, but a move he/she uses ends up fainting the wild Pokémon. (All games)
When the player finds a Shiny Pokémon with Selfdestruct/Explosion, and said moves are used before the Pokémon can be caught. (All games, Voltorb is especially famous for this)
The moment when the player use Dragon types on the PWT, and he/she'll face Candice in the first round. (White 2/Black 2)
The moment when Eevee evolves into the undesired evolution.
The moment when the player wants to trade a Pokémon egg with his/her friend, but has a lot of eggs, and have forgotten which egg contains what.
The moment when the player encounters a human opponent who uses an Action Replay device to win. (Note: Action Replay devices are basically devices used to hack or cheat in a game)
Ad blocker interference detected!
Wikia is a free-to-use site that makes money from advertising. We have a modified experience for viewers using ad blockers

Wikia is not accessible if you've made further modifications. Remove the custom ad blocker rule(s) and the page will load as expected.